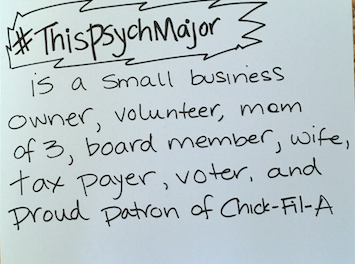 If you weren't a psychology major in college, you may have missed the kerfuffle Jeb Bush caused last weekend when he said this:
"Universities ought to have skin in the game," the former Florida governor said at a South Carolina town hall with Sen. Tim Scott and Rep. Trey Gowdy. "When a student shows up, they ought to say 'Hey, that psych major deal, that philosophy major thing, that's great, it's important to have liberal arts … but realize, you're going to be working a Chick-fil-A.'"
Oh boy.
Normally I wouldn't weigh in on a political issue.  Too divisive. Too unproductive.  But this time I'm going to, because:
I was a psych major
I went on to earn both master's and doctoral degrees in psychology
I believe whole-heartedly in the power of psychology to change lives
Mr. Bush will be debating tonight at the very institution where I received my (not-so-useless) psychology degree (Go Buffs!)
So here goes:
Psychology is an interesting, useful and relevant course of study.  Why? Because all of us can relate.  We all have brains, emotions, families and friends.  We all interact in groups and communicate with other people.  We all start out as infants, develop, grow, learn and age.  We all have a state of mental health, sometimes it's good – sometimes not – but, it's always there.  We all deal with issues like motivation, addiction, shyness, jealousy, and creativity.  Most of us become parents, even more of us enter marriages or committed relationships.  And almost everyone – at some point in their lives – has to deal with a boss, neighbor or family member that they would rather not.
Guess what? All of these things (and more, of course) are in the field of psychology.  What could be a better course of study to prepare a student for life? I can't think of one.
And, what's wrong with working at Chick-Fil-A, anyway?