As a kid, my favorite part of summertime was overnight camp.  In fact, some of my very favorite memories come from my weeks spent on the banks of the Chesapeake Bay at a sailing camp.
Now as a parent, I want my kids to have their own wonderful camp experiences.  Why? Because a lot can be learned from spending a few nights away from home.  Being a camper can teach kids a lot:
How to navigate social situations on their own.  Admit it, most of us can be helicopter parents at times – even thought we know it's not in the best interest of our kids.  At camp, kids are able to make friends and social decisions on their own, out from the watchful eye of mom and dad.  Doing this, and being successful encourages self-esteem and confidence.  What could be better?
How to have fun without technology and social media.  It's hard for all of us to put down our phones and tablets – and no one struggles more than kids.  They've never known life without them! Summer camp is the perfect time to learn that a million awesome things can happen without electronics (hiking, swimming, canoeing, kickball, crafts).  What's more, they're still awesome even if they aren't shared on Instagram!
How to move past your comfort zone.  Whether it's taking on the high ropes course, eating freshly caught fish, sleeping under the stars, or making friends with someone from a different culture or background, summer camp is chock full of opportunities to stretch and challenge kids in ways they never are at home.
It's also important to note that summer camp holds some important lessons for parents, too.  Namely, how to start letting go of our precious babes.  I have to admit that it was harder to say goodbye to my kids when I dropped them off at camp than I thought it would be.  I'm making it through, but definitely counting down the days until I see them again.
Check out these cute stickers and labels, perfect for school and camp: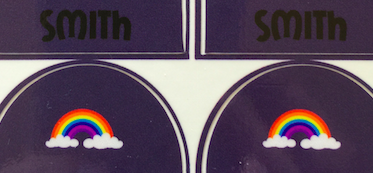 This post sponsored by StickerKid.