This post is part of the Food and Mood series.  Today's guest author is Dr. Bridget Engel.  Welcome, Dr. Engel!
I love Thanksgiving! There is something really special about getting together and celebrating a cozy day and all that we have to be grateful for, without the pressure and sometimes chaos that other holidays may involve. Plus, I love fall food, especially Thanksgiving food with all the fixins'. Sometimes, I wish they weren't all so heavy and filling though. That is why I've started adding in a nice green salad with butternut squash that goes great with the turkey, and with the leftovers!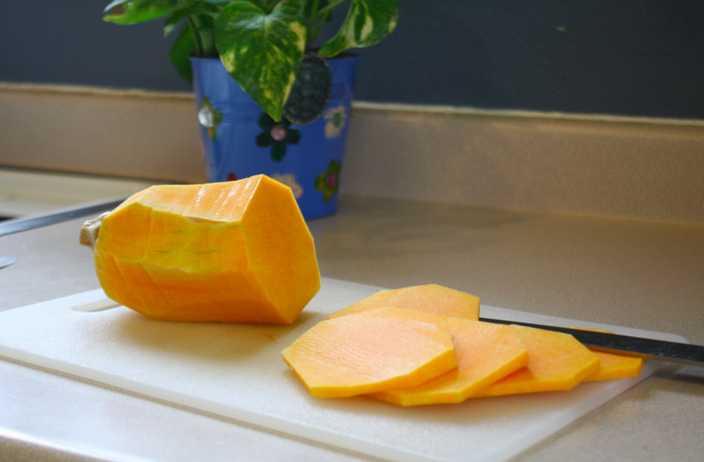 Oh the sweet nuttiness and bright, cheery color of a Butternut Squash! However, one of my first feelings I experience when making Butternut Squash Salad is frustration. I find cutting squash to be difficult and tedious, even if our knives have been recently sharpened. But keep reading; its worth it. I've found that using a peeler sometimes works better when trimming the skin of a squash. Once I get that off, then my twin girls can help, and they love to be in the kitchen together.
Cut up the squash in chunks and then toss lightly in extra virgin olive oil. For a whole squash, I use 1-2 tablespoons olive oil. Sprinkle with two teaspoons rosemary. If you like a garlic flavor on your salad, you can add it a bit of that now too.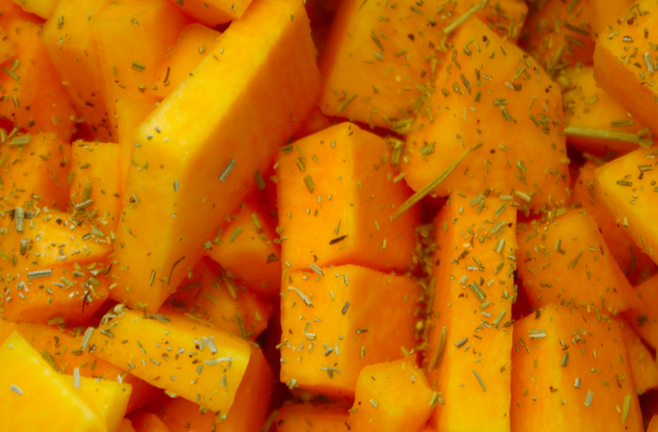 Spread in an even layer on a baking sheet and roast in the oven for about 20 minutes, at 375 degrees, stirring half way through. I like my squash to be a little bit caramelized, so sometimes I flip again and put the pan back in the oven for five more minutes or so.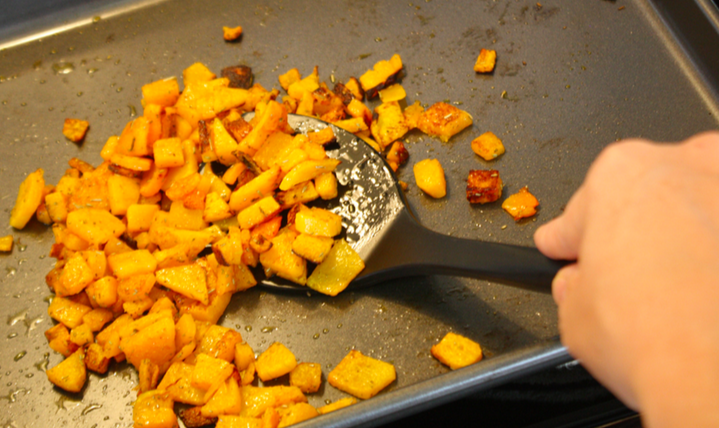 By now, I am usually feeling cozy and content. I love the smell and color of squash, and I feel good that I'm providing something healthy for my family. Squash of course, has vitamin C but also lots of vitamin A and B. There is no doubt that squash has good fiber, plus potassium!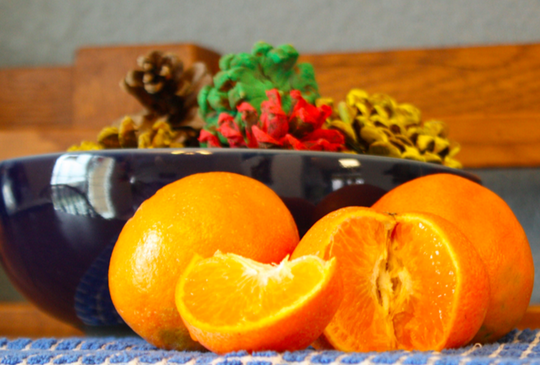 I've played around with a variety of vinaigrette dressings for this salad, and the good thing is that you can do what sounds best to you. I usually cut up and puree some fresh, juicy tangerines. Remember to pull the seeds out first. Those little buggers sometimes have three or four seeds! I think the citrus flavor is what makes this salad light and refreshing, alongside your mashed potatoes or stuffing.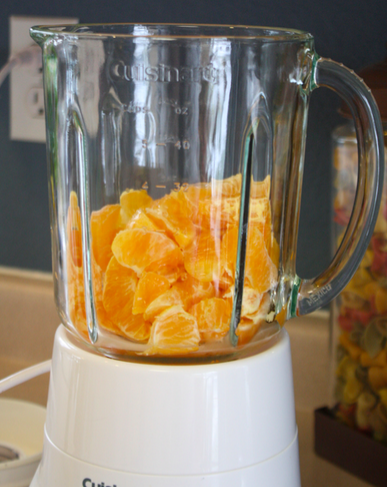 Puree those in a blender, adding in one teaspoon of fresh rosemary and a tablespoon of olive oil. Sometimes I add in a pinch of sugar or a half teaspoon of lemon juice to make it more sweet or more tart.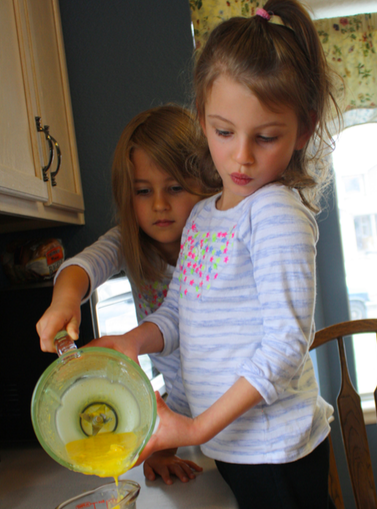 Before you blend, try to get as much of the skin and the white stuff (what's that called?) out so that you can get a nice smooth texture. You may need to blend for three to four minutes.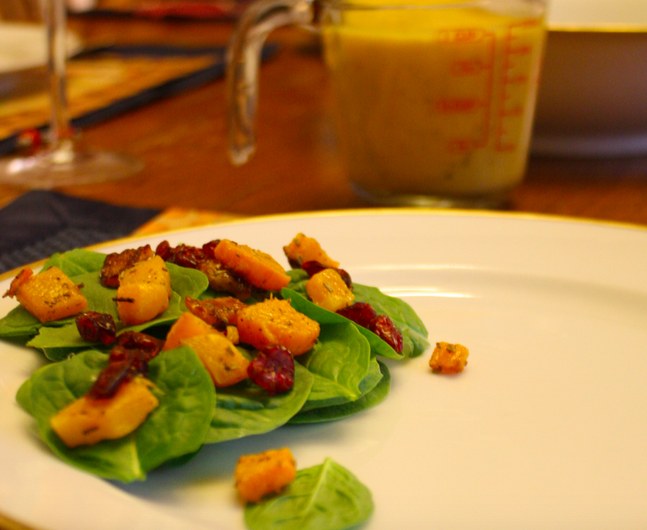 Gently top warm squash on a bed of spinach, and then sprinkle with dried cranberries and freshly grated pepper. Sometimes I also add kale, or the fall flavors of nuts and seeds too to vary the texture a bit. I've always used dried cranberries, but I wonder how fresh cranberries would taste. Or add in some fresh cranberries to your tangerine vinaigrette! Butternut Squash Salad, alongside friends and family, makes me feel joyful and happy for the holidays. I am always excited for the weekend after Thanksgiving too because leftover squash makes for some delicious little salads for lunch.