It's so easy to over-do it on the sweets this time of year.  Don't get me wrong, I LOVE sweets, but I don't always LOVE the way they make me feel.  And I definitely don't LOVE the effect too much sugar has on my already-hyped-up kids.
Luckily, Produce for Kids has come to the rescue again!  This year, they are again offering a free holiday cookbook – filled with lots of kid-friendly meals and snacks.  Check out the full guide here.
I showed my kids the beautiful cookbook and they picked out these little snacks to try:

I'll give you one guess why they chose these:
Yep, the marshmallows.  They are all suckers for those things!
Anyway, here's how it went down:
I got all the ingredients ready:
The kids chose an ingredient (notice which was most popular!):
Put them on the skewers:
And TA-DA! our after-school snack was ready!
It didn't look quite like the example.  We couldn't quite figure out why.  But, they were yummy, easy and fun.  Best of all my kids ate a lot of fruit (along with some extra marshmallows, of course).
Happy Holidays!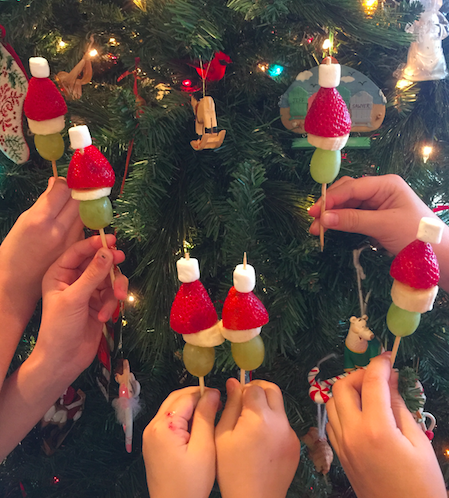 For more holiday food ideas, be sure to check out Produce for Kids.