Do you remember being a teenager? A middle schooler? Let's just say it can be a challenging time in life. Bodies, ideas and emotions are changing at lightening speed; nobody understands you; and life can feel like an endless series of demands, trials and challenges. Everything from clothes to hair to after school activities can be put to the test:
Is this cool or totally dorky?
And yes, I know those aren't the terms today's teens would use to describe good and bad, so I am reverting to my own adolescence (cringe.)
Anyway, it wasn't until a year or so ago that I realized that school lunches were also judged in terms of being cool, or not-so-cool.  Here are how things work out for the teens/tweens in my house:
Buying lunch = cool

Taking lunch to school = not cool
But after discovering that my now-7th grader ate fried chicken sandwiches every single day for lunch last year, I decided we needed to make some changes this year.  So when Produce for Kids issued their annual #PowerYourLunchbox Pledge, I decided to get creative. The goal? To find a cool(ish), healthy lunch that my tween and teen would actually eat for lunch. In front of their friends. And not blame me for ruining their lives. Tall order, I know.
And here's what I came up with: Mason Jars. They're cheap, functional and Joanna Gaines-approved (that's a good thing in our house). You've probably seen mason jar salad ideas floating around online for the past couple of years. I had too, but I had yet to try them. Here's how it went:
I pulled everything out of my frig and pantry that could go into a salad:
I read that you should start with dressing, so I put that on the bottom, then filled up the jar from there:
I put the dry ingredients (tortilla strips, croutons, etc) in a little baggy on top so they would still be nice and crunchy at lunch time:
Then I realized I could put anything I wanted into the jars and it would look cute! Leftover pasta salad, fruit salad – nothing in the frig was safe!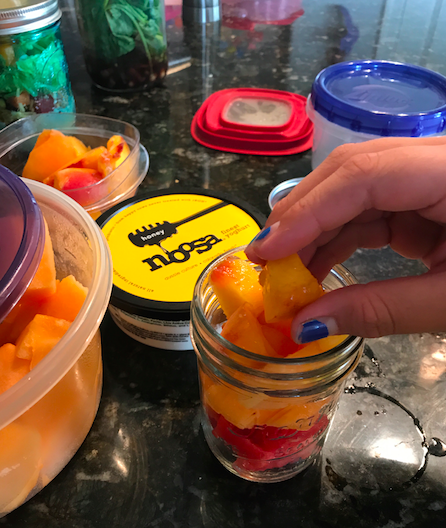 …you see where this is going…
One of my kids took this for lunch today, doesn't it look delicious?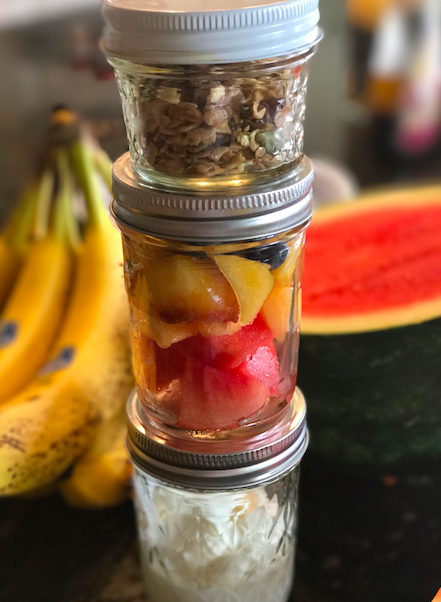 In about 20 minutes we made several lunches and snacks.
And guess what? The kids actually took these beauties to school, ate the contents and brought the jars back home to be refilled – a HUGE SUCCESS! Next time we might try peanut butter, hummus or Nutella in a jar, with some fruits or veggies in another jar for dipping. The possibilities are endless!
Want more ideas for healthy, yummy and semi-cool lunches? Check out Produce for Kids.
Want to help support Feeding America as they provide meals for kids in need just by lifting a finger? Take the #PowerYourLunchbox Pledge!