This post is part of the Food and Mood series. Today's author is Megan Alpert, welcome Megan!
Denver has so many amazing restaurants and one of my favorite local
spots is The Cherry Tomato in Park Hill. Delicious food and a cozy
ambiance make for a romantic date night or even a fun night out with the
family. The restaurant also holds a special place in my heart, as it was
where I navigated my first hostess job and delighted in the warm, savory
minestrone soup and scrumptious fettuccine Alfredo.
For almost twenty years, owner and chef, Tom Felise, has featured his
signature creation, Pasta Felise, which is a dreamy dish of bowtie pasta
with chicken, sundried tomatoes, artichoke hearts, and sweet green peas
dancing in a creamy white wine basil pesto sauce – how about that for
making your heart jump!
A few months ago, I attempted to recreate this masterpiece and am happy
to share my version of "Pasta Felise." When I want to make my sweeties
feel special or when I get nostalgic for the taste of my twenties, I turn to
this dish. Enjoy!
Here is what you need. Wow, I feel fancy setting up this display like I am
the Pioneer Woman – love her recipes!
Ingredients
3 Tablespoons olive oil separated
1 Tablespoon butter
1 package of boneless, skinless chicken breast (3-4 in a pack)
1 lb bowtie noodles (cook according to pasta instructions)
Basil Pesto (recipe below)
1 1/2 cup white wine – I like Sauvignon Blanc
1 package ready to eat julienne cut sun dried tomatoes
1 can of artichoke hearts (more if you want!)
1 cup of frozen green peas
3/4 cup of heavy cream
Salt and Pepper
Basil Pesto:
3 – 4 large bunch of fresh basil (about 3 cups basil leaves with stems)
4 cloves of garlic
Juice of 1/2 lemon
1 cup shredded Parmesan cheese
1 cup olive oil
Serves 4-6
First, let's prep the chicken. I cut the breasts into two inch pieces and salt
and pepper both sides.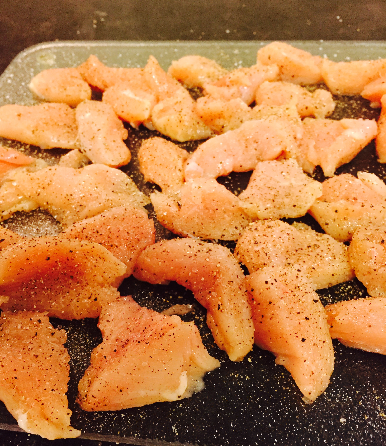 Next, cook the pasta according to the package and you can set it aside for
later.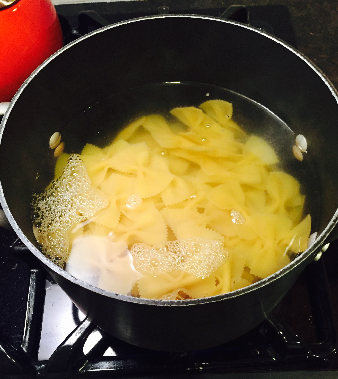 Then, heat about 2 Tbsp of oil with 1 Tbsp of butter in a large skillet on
medium-high heat. Cook the chicken until brown and just done (about 8
minutes). The mixture of olive oil and butter gives the chicken a nice brown
finish.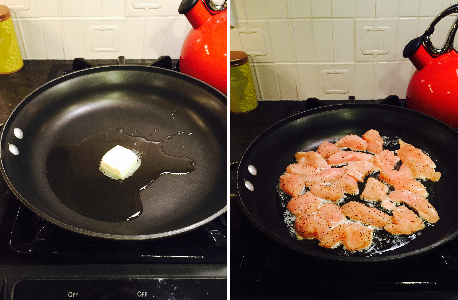 While the chicken cooks, you can make the Pesto.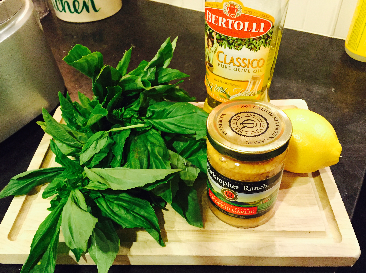 I cut the very end of the stems off but use the rest of the basil – stem and
all – as it provides great flavor.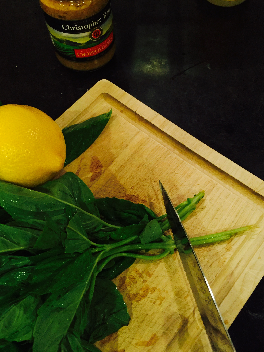 Add the basil, garlic, lemon juice, and Parmesan cheese to a food processor and pulse until
coarse. Then add the olive oil and pulse until smooth. So fresh and so easy!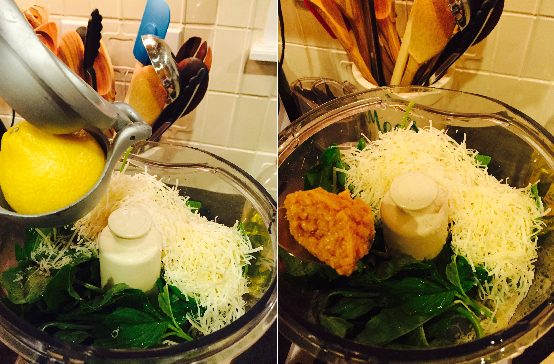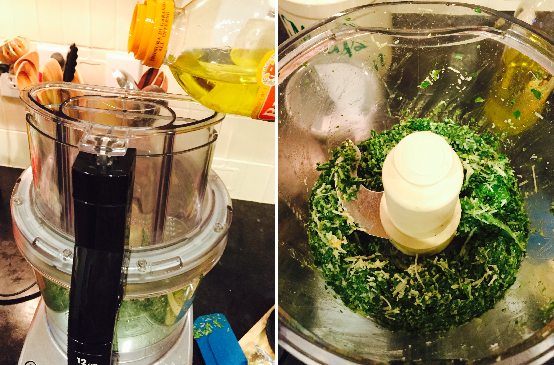 By now, the chicken should be nice and brown and you will want to set it aside
and lightly tent with foil for later.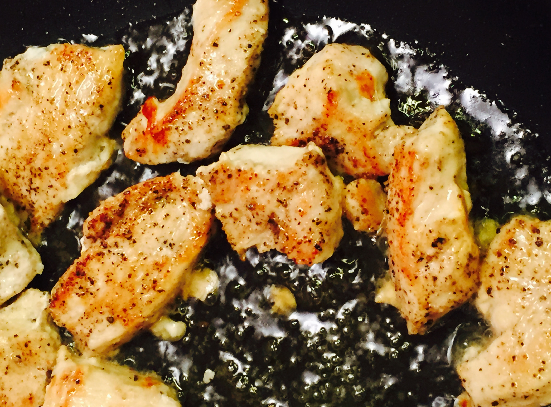 Heat one tablespoon of olive oil over medium heat.
Next, add the beautiful pesto that you made and heat until fragrant (about 2
minutes).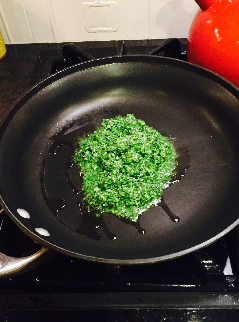 Then add the white wine and simmer for 5 minutes.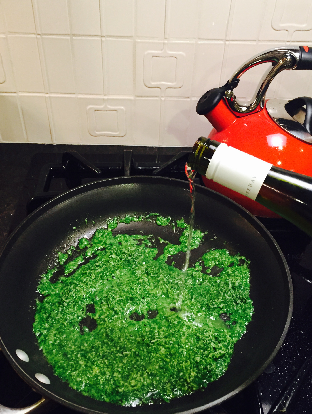 Now, add the sun-dried tomatoes – lovely color!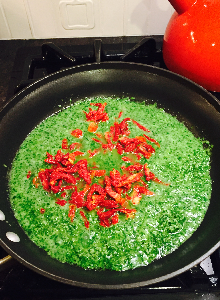 Then, the artichokes…
Finally, add the peas. If using frozen, I sometime just add them in straight from
the freezer. I can only imagine how good this would taste in the summer with
peas from the farmers market!
Stir and simmer for 5 – 7 minutes until bubbly.
As a last touch, lower the heat and add the heavy cream.
Stir and cook for just a few minutes longer.
Your last step is to mix the beautiful sauce with the cooked noodles and serve
with shredded Parmesan. Love in a bowl!!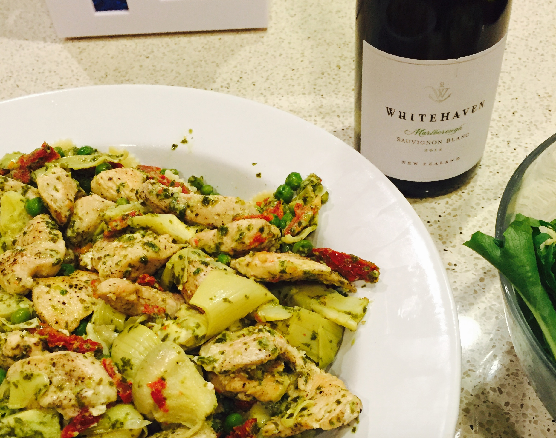 Megan Alpert is a recruiter at Accenture focused on finding top talent for the Marketing & Communications team. Megan lives in Denver with her husband and two sons and her passions include sports, yoga, music, travel and cooking.  One of her priorities and great joys in life is to cook and enjoy dinners with family and friends.