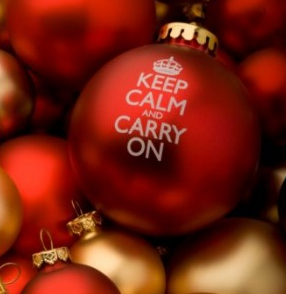 There is a lot of tension in the country right now.  And we knew it was going to be this way, right? No matter the outcome of the election, there were always going to be many, many millions of folks who'd supported the losing side.  And after a full of year of debate, nastiness and name-calling in the political arena, more rancor post-November 8th was exactly what NONE of us needed.
And now here come the holidays.  A time that's supposed to be shiny, bright and Pinterest-worthy – but is actually often stressful, disappointing and overwhelming.
I've been talking to quite a few folks in the media this week about tips for how to manage holiday gatherings with family members who are on different sides of the political debate.  A few things have come to my mind in these conversations, not the least of which is:
We don't love our families (and our families don't love us) because of our political views
The love shared between families is made up of many (in my mind, more interesting) reasons:
We share the same history – the history we can remember and the history that happened generations before we arrived
We have lots of shared memories – of things good, bad and in between
We root for the same football team, laugh at the same dumb movies, like the same weird food, etc
We have forgiven each other for mistakes and hurts big and small – and will continue to do so many more times in the years to come
We accept each other for what we really are: Not what we post on our Facebook page or send in our holiday cards
We sit with each other when we are sick, hold each other's hands when we grieve and celebrate together when a milestone is reached
Feelings about the election and the coming administration are intense, but let's all try to keep it in perspective.  Shared political beliefs rarely occur in families anyway, and this year is no different.  To expect agreement this holiday season will likely only result in frustration.  Instead try focusing on all the many things we do have in common and love about each other.  Pumpkin pie, anyone?